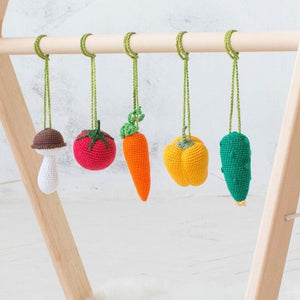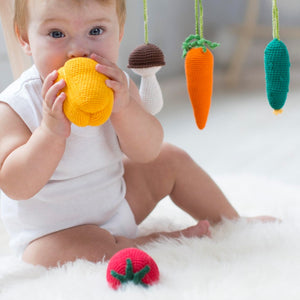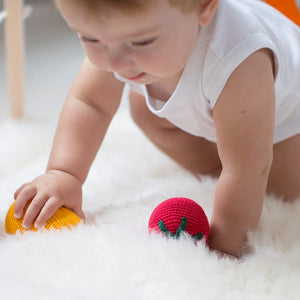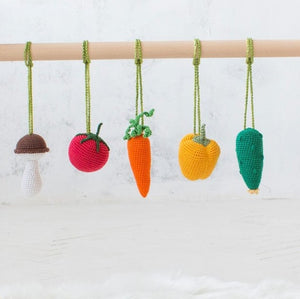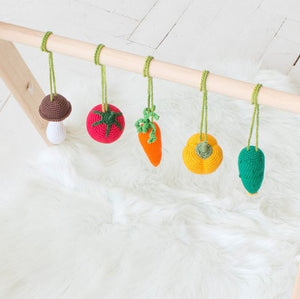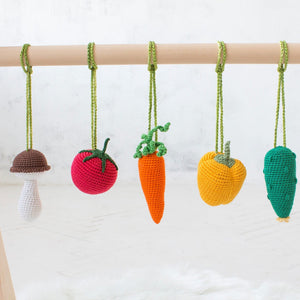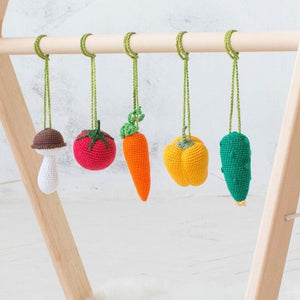 Vegetables Baby Gym toys
Production time: 1-4 days after the order is placed. 

Our baby gym toys vegetables are made to entertain your baby and encourage important developmental skills. Your baby will get so much joy from the sensations, sounds and visual delights these veggies give. 

The set includes:
Five vegetable toys:  tomato,  mushroom,  cucumber, carrot and a pepper.
Highlights: 
♥ The eye-catching colorful design will capture your baby's attention.
♥ The soft crochet vegetables have rattles inside making them a fun distraction for babies as they learn how their movements can influence the sound. Your baby will just love to touch vegetables and hear them rattle. 
♥ Soft gentle texture of crochet toys is perfect for tactile stimulation. Vegetables help to evolve a baby's fine motor skills and develop grasp. 
♥ When a baby gets older cut off the crochet loops and your toddler will have a set of separate vegetables for playing with as pretend food. Great for teaching kids healthy eating habits. 
♥ These handcrafted active gym mobiles would make a perfect gift for anyone with kids or expecting a baby. 


OUR PROCESS & MATERIALS: Each vegetable is hand crocheted from high quality 100% cotton yarn, stuffed with hypoallergenic polyester filling and has a plastic rattle inside. Vegetables measure from 2" (5 cm) to 5" (12 cm) in height. Vegetables have 8" (20 cm) long crochet loops for easy attaching to a play gym bar. You may tell me the length you need.

C A R E : Hand wash with a mild soap, dry flat.

S A F E T Y : Use the toy only under an adult's supervision. Toys with loops should be used as hanging toys only. When you stop using them as hanging toys cut off the loops before giving the toys to a baby. To avoid danger of suffocation never let your baby play with the loop. Check the toy every time before you give it to your baby. 

The color may slightly vary due to your monitor color settings.