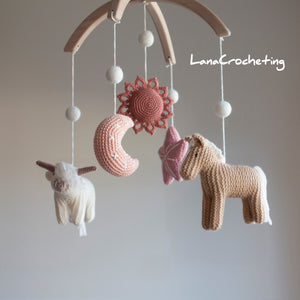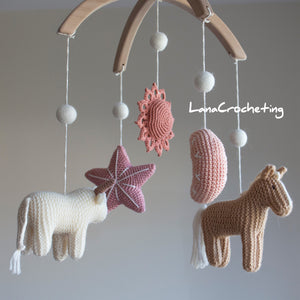 Desert sunset mobile
Our bohemian Desert sunset nursery mobile with longhorn cow and palomino horse

• modern, nature and minimalist
• made in soft baby girly colors
• features natural white longhaired highland cow, horse, the sun, the moon, star which are designed in 3D shapes
• makes the perfect accessory for a baby's space and a great gift for a mom-to-be!

The hanger of this mobile is two half round arches 9.5'' in diameter made of untreated solid alder wood.

Total length of the mobile is 14" (35 cm) approx.

Mobile is prepared for hanging it from the ceiling (special hook and long string are included).

SAFETY WARNING : Mobiles are decorative items and it should be kept out of baby's/child's reach at all times.