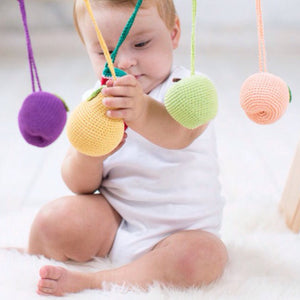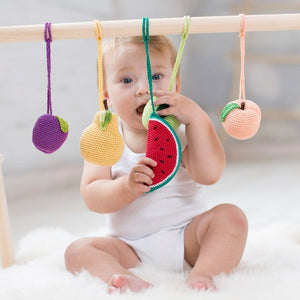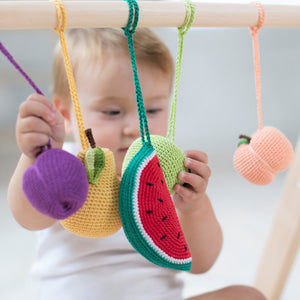 Fruits Baby Gym Toys
Our hanging baby gym fruits rattles are made to entertain your baby and encourage important development skills. Your baby will get so much joy from the sensations, sounds and visual delights these fruits give. 

Set includes 5 crochet fruits: a plum, a pear, a slice of watermelon, an apple, a peach. 

♥ The colorful design of fruits will capture your baby's attention.

♥ The fruits have rattles inside making them a fun distraction for babies as they learn how their movements can influence the sound.

♥ Soft gentle texture of crochet mobiles is perfect for tactile stimulation. Fruits help to develop a baby's fine motor skills. 

♥ When a baby is out of hanging toys period cut off the crochet strings and your child will have a set of separate fruits for playing with as a pretend food. Great for comfortable development of children's imagination, learning colors and fruit names.

Each fruit is hand crocheted from high quality 100% cotton yarn, stuffed with polyester filling and has a rattle inside. 

Fruits measure from 1.6" (4 cm) to 3,ng9" (10 cm) in height. Fruits have 8'' (20 cm) long crochet loops for easy attaching to a play gym bar.