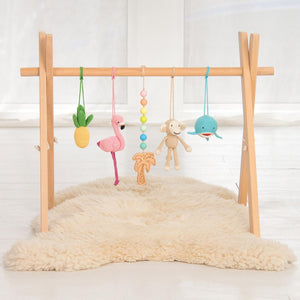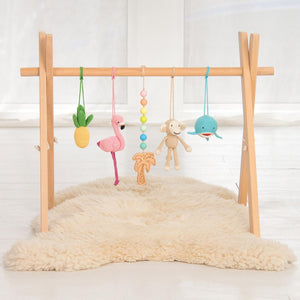 Tropical Play Gym Toys: Flamingo, Pineapple, Monkey, Whale.


Our Tropical baby play gym toys set includes
1 x crochet flamingo rattle
1 x crochet monkey rattle
1 x crochet whale rattle
1 x crochet pineapple rattle

♥ The inviting soft texture and bright colors of the rattles offer a fun distraction for babies while stimulating development of their visual and motor skills.
Each toy is lovingly hand crocheted from high quality 100% cotton yarn, stuffed with polyester filling and has a plastic rattle inside. The toys measure from 2.4" (6 cm) to 7" (18 cm) in height.  Toys have long loops for easy attaching to a baby gym bar or most strollers, prams, car seats for on-the-go fun. The loops are crocheted separately and then attached to the toys, so they can be cut off when a baby is out of a baby gym period. 

Toys are hand washable. 

SAFETY: Baby gym should only be used under an adult's supervision. Do not assemble while the baby is underneath the baby gym. Check the toys every time before you give them to your baby. Toys with loops should be used as hanging toys only. When you stop using them as hanging toys cut off the loops before giving the toys to a baby. To avoid danger of suffocation never let your baby play with the loop.